Wednesday, March 8 2023
Posted by Mandee on March 7th, 2023
21 responses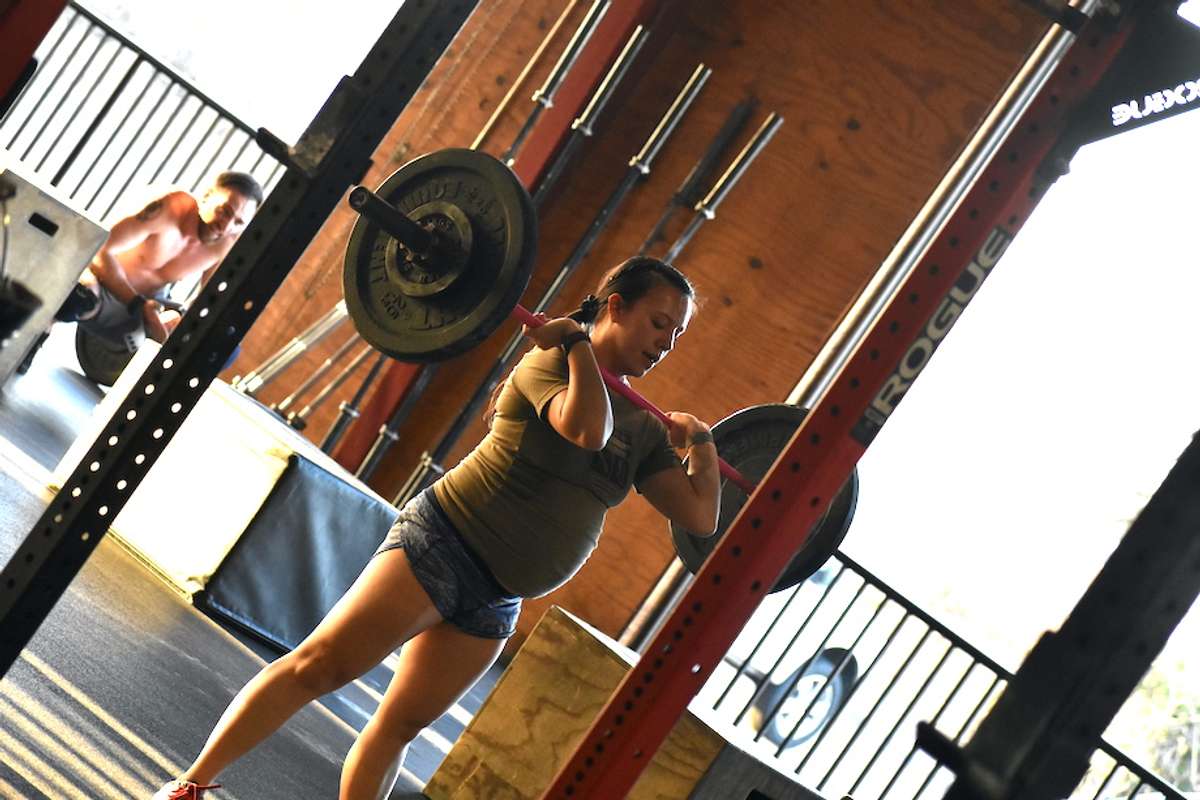 Back Squat Build Up E3MOM
12 - 9 - 6 - 3 - 1
For Time: (24min cap)
200m Run/Row or 0.5k Bike
4 Back Squats 135/95 RX+165/115 MRX 95/65
2 Front Squats
Rest 2min
400m Run/Row or 1k Bike
4 Front Squats
6 Back Squats
Rest 2min
600m Run/Row or 1.5k Bike
8 Back Squats
6 Front Squats
Rest 2min
800m Run/Row or 2k Bike
8 Front Squat
10 Back Squat
Core & Pistol Development
20 Wallball Leg Lifts
20 Pistols Left Leg
20 Evil Wheels
20 Pistols Right Leg
20 V-Ups w/15/10lb plate
20 Double Kettlebell Front Rack Reverse Lunge alt legs
21 responses to "Wednesday, March 8 2023"
March 7, 2023 at 8:39 pm
Oh man, this is so awesome! Claudia putting in work, showing out as always, and looking absolutely picture perfect. This lady hasn't skipped a beat and has continued to be committed to her health and fitness throughout her latest journey. She's kept a great attitude, trained hard but smart, and has landed herself in tip top shape as she gets ready to bring a perfect little girl into this world. It's not surprising, but that doesn't mean it hasn't been impressive. Claudia is a real deal athlete, a beautiful person, and she's already showing she's an incredible mom. So excited for you and Lewis, Claudia, and I can't wait to meet that beautiful baby girl! ☺️
March 7, 2023 at 9:05 pm
She knows I'm a fan of the braids… Claudia has truly impressed me with her athleticism and strength. She continues to PR and honestly I forget sometimes she's pregnant, because she doesn't complain one bit. She's very committed to her own health so I know our baby is in great hands. She's a beautiful woman and I know our daughter will have my heart the moment she is born. She is surrounded by a ton of people that already love her. Can't wait for y'all to meet her.
March 7, 2023 at 9:14 pm
Claudia! This pic is perfect. I know you're going to be the best mommy. Can't wait to meet her 🥰
March 8, 2023 at 7:13 am
A. 165 - 205 - 225 - 275 - 305

B. 18:24 rx 🏃‍♂️
March 8, 2023 at 8:27 am
135-185-225-275-315
18:20 rx bike
March 8, 2023 at 10:14 am
What an awesome picture of you, Claudia! You are going to be the best Mommy!
A. 125
B. 21:29 scaled weight to 75#, ran
March 8, 2023 at 11:25 am
My girl Claud. She has been the strongest person during her pregnancy. Someone I surely look up to in the CrossFit world. I cannot wait to meet her baby girl. If she's anything like her parents, she is set in this world 🤍
March 8, 2023 at 11:51 am
Back squat: 135(12)-205(9)-255(6)-285(3)-315(1); WOD: 19:03 rx+ row
March 8, 2023 at 11:58 am
Claudia standing tall and proud as a mom to be…and she's gonna be a wonderful mom no doubt. Claudia has always been a hard working CrossFitter and she's got more purpose than ever now. She's maintained her health during this most important time and it's been inspiring, but not surprising, to watch. Claudia is a favorite of many at CFHSV because of the way she carries herself with such consistency. We're very excited for Claudia and this next chapter that will change her life forever and for better 💙 Keep rocking it Claudia
March 8, 2023 at 11:59 am
A. 135 - 155 - 205 - 265 - 320❌


B. 18:39 rx+ (row)
March 8, 2023 at 1:10 pm
A: 185-205-225-275-295
B: 18:10 Rx, bike
C: complete...the WB leg lifts was interesting
March 8, 2023 at 1:33 pm
Worked w/ the big dawgs today in Open Gym:

a. 12x95, 9x125, 6x155, 3x185, 1x200
b. 21.05 MRX'd
March 8, 2023 at 3:44 pm
Claudia is a strong and beautiful woman!

A. 135
B. 3 rds rx (run, bike, bike)
March 8, 2023 at 5:05 pm
A) 135(12),165(9),225(6),315(3),345(1), 365(1),390(1) PR!
B) 18:45 Rx+ 🏃‍♀️
March 8, 2023 at 5:48 pm
A-215#, B-18:27 RX (row)
March 8, 2023 at 6:16 pm
A. 225(12)-275(9)-315(6)-365(3)-405(X)
B. 15:50 Rx+ (row)
March 8, 2023 at 6:21 pm
Super impressive watching this mama hit a PR today the day before the due date!

135(12)-185(9)-225(6)-275(3)-325(1)
18:48 rx (row)
March 8, 2023 at 7:03 pm
185(12)-225(9)-285(6)-325(3)-365(1)

17:39 Rx+ Row (1:12/2:11/3:24/4:52)
March 8, 2023 at 8:30 pm
12-185 10-225 6-275 3-305 1-345 1-360

16:58 Rx+
March 8, 2023 at 8:32 pm
This girl is a rockstar. She hasn't missed a beat since being pregnant, from PR'ing lifts to crushing RX workouts and not complaining one bit. I'm so glad to call her a friend and can't wait to see her and Lewis become the best parents to a beautiful baby girl. I'm so excited to meet her!

A. 155(12)-205(9)-235(6)-265(3)-300(1)
B. 16:09 RX+ (row)
March 9, 2023 at 4:59 am
A. 115-135-155-185-225
B. 17:04 Rx (Row)
Leave a Reply