Thursday, June 1 2023
Posted by Mandee on June 1st, 2023
10 responses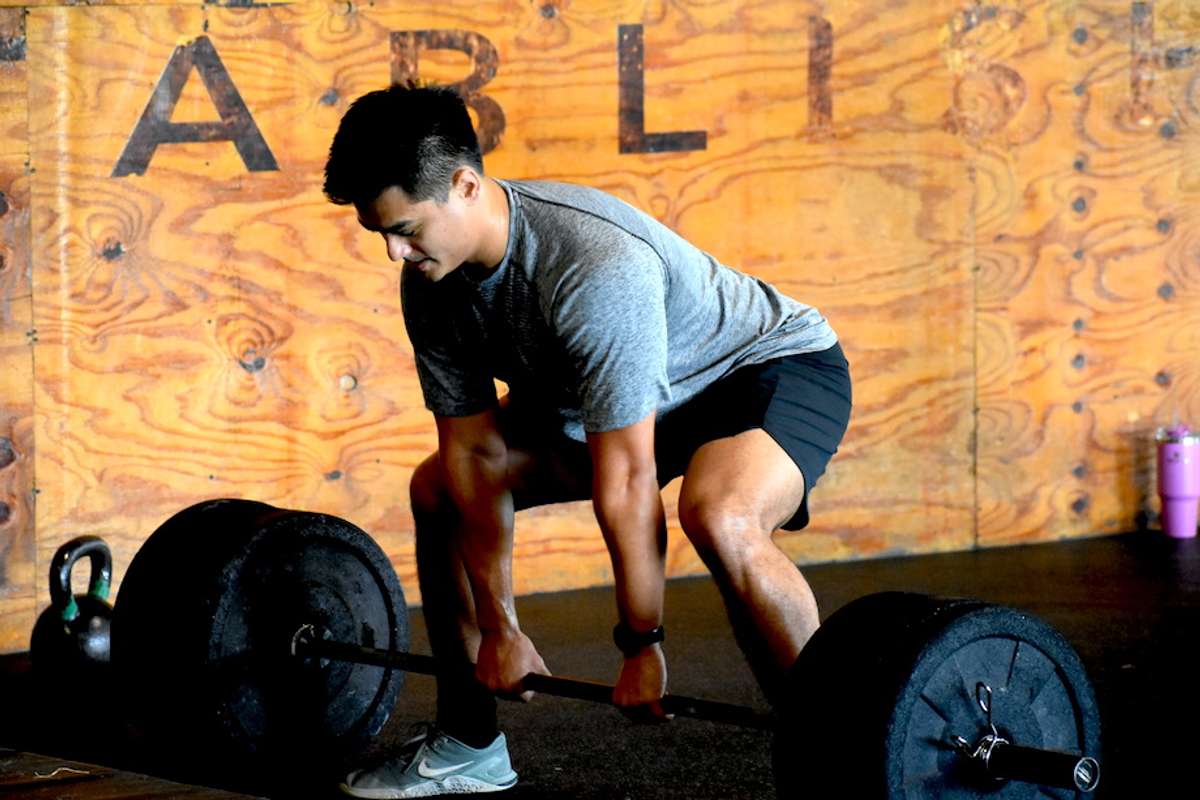 400m Run/Row or 1k Bike
E4MOM x 3
*score is slowest time of the 3
MainSite WOD
3 Rounds For Time: (15min cap)
30 Dumbbell/Kettlebell Snatches (alt arm)
30 Toes to Bar
DBs = 50/35lbs MRX 35/20lbs
KBs = 24/16kgs MRX 16/12kgs
Core & Flexibility Development
2min on Banded Shoulder Stretches
1min Couch Stretch
1min Head to Floor Straddle Stretch
2min High Plank Hold
2min on PVC Shoulder Stretches
2x30sec Back Bridge/Arch
2min Wall Iron Chair Sit/Hold
1min Butterfly Stretch
1min American Splits
2min Hollow Hold
10 responses to "Thursday, June 1 2023"
June 1, 2023 at 7:36 am
A) 1:36 (1:34, 1:36, 1:36) 🏃‍♂️
B) 14:50 Rx
June 1, 2023 at 7:47 am
A. 1:37 - 1:33 - 1:32 🏃‍♂️
B. 2+47 rx
C. Complete
May 31, 2023 at 9:09 pm
William is set and ready! What a great guy who always shows up with a smile and a great attitude. William is a natural athlete who moves well and makes lifts look easy. He's got strength and power along with an engine that keeps him going hard no matter the WOD. He couldn't be a nicer person and is always polite and kind to classmates and coaches alike. Keep it up dude!
June 1, 2023 at 8:59 am
William! Locked and loaded for a big lift! William is a great athlete with an equally great attitude. He's always got a smile on his face and happy to be in the gym. He's skilled with moving the barbell and he's got an engine to match. So glad he always finds his way back to CFHSV when he's home!
June 1, 2023 at 11:13 am
1:25 row
13:05 rx
June 1, 2023 at 11:43 am
A. 1:54 Run | 1:52, 1:52, 1:54 |
B. 12:16 Rx
June 1, 2023 at 11:54 am
A: 1:45 (1:45, 1:40, 1:37) run
B: 14:27 rx
June 1, 2023 at 2:48 pm
A. 1:38 row (1:35, 1:36, 1:38)
B. 13:21 rx
June 1, 2023 at 5:21 pm
A. 1:25 🏃‍♂️
B. 2 RX had to take a break in the middle because I thought my heart was exploding
June 1, 2023 at 8:15 pm
A: Back Squats e2mom:
225(6)x1-240(6)x7
B: 7:34, scaled (30 wb sit-ups ilo t2b)
Leave a Reply