Monday, May 22 2023
Posted by Mandee on May 22nd, 2023
13 responses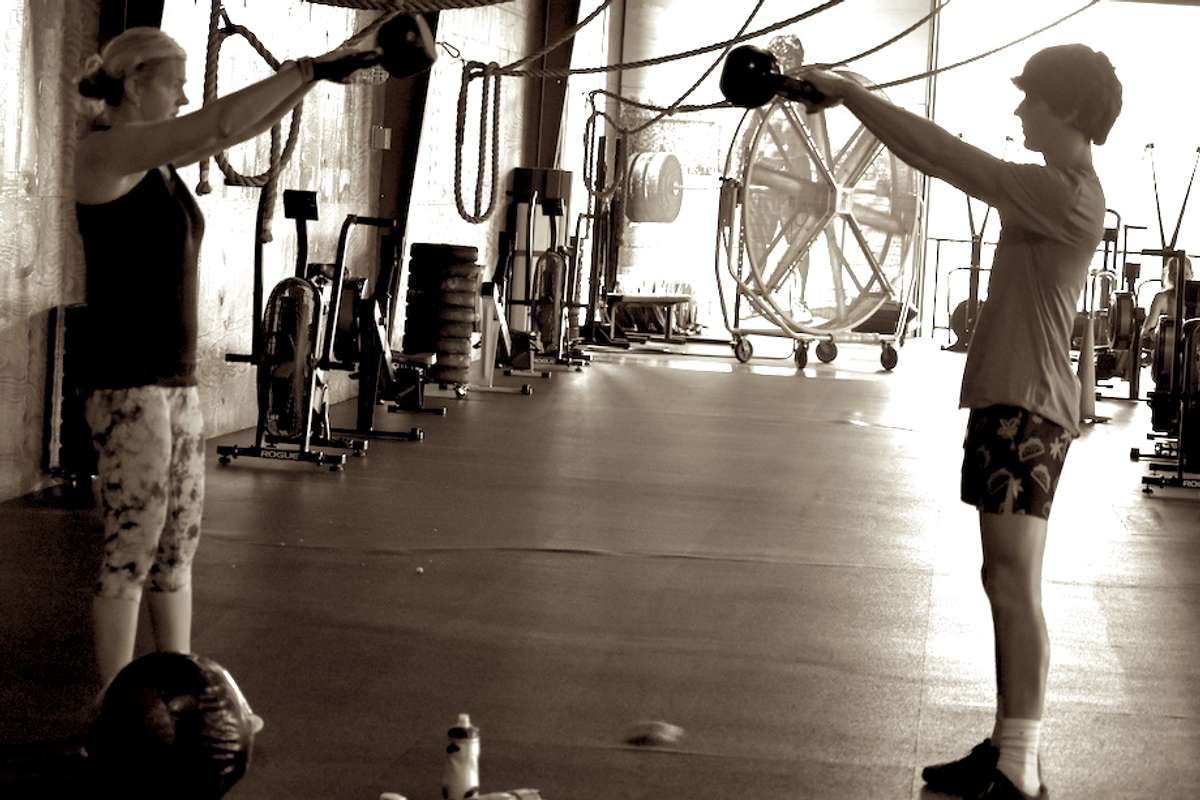 1 1/2 Front Squat E3MOM
5 x 5 -1 @ 50-75%
1 1/2 reps = full squat below parallel; rise above parallel to 3/4 squat, then squat back below parallel and stand = 1 rep
3min AMRAP:
6 Front Squats 95/65lbs RX+135/95 MRX 75/55
12 Over the Box Jumps 24/20" RX+30/24" MRX 20/18"
Rest 2min
3min AMRAP:
12 Air Squat Jumps (feet must break surface)
6 Burpee Box Jumps/Step-ups
Rest 2min
3min AMRAP:
6 Front Squats
12 Box Step-ups
Squat Development
20 Double Kettlebell Front Rack Lunges (10ea/alt)
2 sets 10 Reps Pistols (alt legs)
1min Wall Iron Chair Sit Holding 25/15lb plate
13 responses to "Monday, May 22 2023"
May 21, 2023 at 8:54 pm
You won't find a bigger hearted young man than John Kevin!! And one of the reasons is his momma who is showing him how those Russian KBS are done. He is pretty much the only person who is allowed to do a partner wod with Fleming if I'm not there. Love the Sharp family!!
May 21, 2023 at 9:09 pm
LOVED watching these two WOD together!
May 22, 2023 at 7:25 am
A. 135 across
B. 3+2 / 2+12 / 3 rx
C. Complete

Very proud of Bailey this morning.
May 22, 2023 at 8:15 am
Twins 🥰🥰 Great picture of the cutest pair of cross fitters in our gym 🫶
May 22, 2023 at 8:54 am
A: 95-115-135-135-155
B: 3+2, 3, 3+1 rx
May 22, 2023 at 9:15 am
Huge thanks to Misty for taking the reigns at home base for us all! You are amazing Misty! And a huge Congrats Bailey you made us all so so proud!! 💪🏻
May 22, 2023 at 10:23 am
Great picture! Always a pleasure to see Fleming and her son crossfitting!
May 22, 2023 at 11:14 am
Love these two and the strength they give each other. Fleming has been a long time favorite so it's no surprise that John Kevin makes a strong first impression and more. It's always inspiring to see family's CrossFit together and I believe it creates a special bond. These two definitely have a bond that can't be broken. John Kevin continues to impress the coaches with his attitude, athleticism, humor, and his overall authentic spirit and self. Fleming ain't just a bad a** CrosFitter she's a bad a** mom too…no surprise there. Keep enjoying the journey of staying and being Fit together!
May 22, 2023 at 11:25 am
Big fan of the Sharp family.
2+14, 2+13, 3+2 rx
May 22, 2023 at 12:02 pm
185
3+1
2+15
3+1
May 22, 2023 at 5:58 pm
225 across
3+8 / 3+4 / 3+1 Rx+
May 22, 2023 at 10:25 pm
A: 165# across
B: 3+8/3+6/3+4, RX
May 22, 2023 at 10:56 pm
205

3+7
3+3
3+13
Leave a Reply