Monday, June 5 2023
Posted by Mandee on June 5th, 2023
15 responses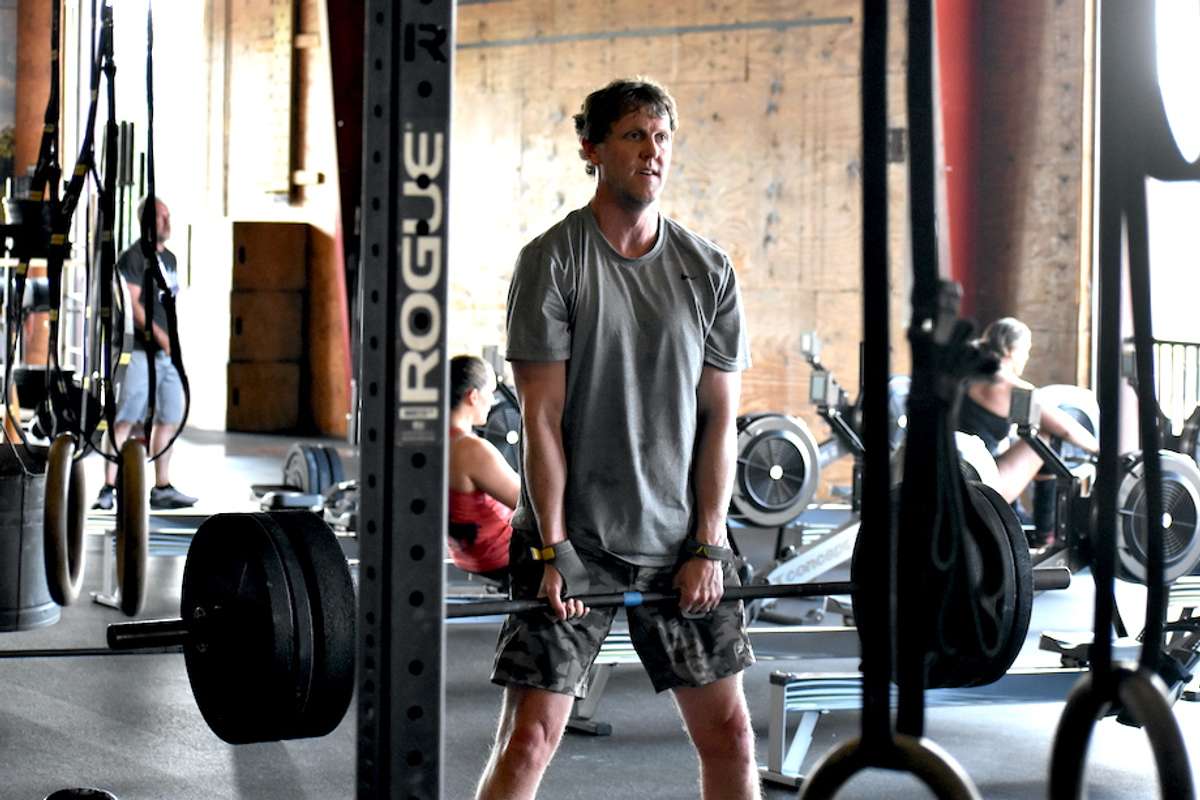 Bench Press Build-Up E3MOM
5 x 5
6min AMRAP:
9 Hang Snatch 95/65lbs RX+115/75 MRX 75/55
6 Overhead Lunges (alt legs)
3 Muscle Ups (ring or bar) MRX 3 Chest to Bar
Rest 3min
6min AMRAP:
9 Push-ups
6 Hang Snatch
1 Rope Climb 15' MRX 10'

*Athletes Choice on which AMRAP to Start*
Core Isometrics
1min L-Sit Bar Hang
1min Plank Bird Dog Hold Left/Right
1min Hollow Hold
1min Plank Bird Dog Hold Right/Left
1min Wall Iron Chair Sit Holding 25/15/10lbs
1min Bar Hang
1min High Plank Hold
1min Squat Hold 1" over WallBall
15 responses to "Monday, June 5 2023"
June 4, 2023 at 9:04 pm
Jim is the man! We go WAY back and it's great to have him and Rhae at CFHSV. Jim couldn't be a nicer guy and he's done nothing but work and smile since joining. His strength has improved across the board and he keeps tuning that engine every day he walks through the door. The decision to dedicate himself to a healthier lifestyle with CrossFit has paid huge dividends. Jim has always been a natural athlete and I know this cause I grew up playing sports with him. It's great to rekindle that athletic passion and drive, especially when it benefits your health and the ones you love. Keep reppin bro!
June 5, 2023 at 7:24 am
First time dropping into CrossFit Huntsville and everything was outstanding. Staff and facility were amazing and I can't wait to see what's in store the next couple of days.
June 5, 2023 at 8:36 am
Jim, looking good my man 💪🏼

A: 195
B1: 2+13 rx
B2: 5+5 rx
June 5, 2023 at 11:41 am
135-155-175-195-215(4)
3+8 & 4+8 rx (in order, bmu)
June 5, 2023 at 11:59 am
215
3+15@75bar
4*6@95
June 5, 2023 at 12:47 pm
A1. 6 modified rounds not for time

A2. 6 modified rounds not for time
June 5, 2023 at 1:12 pm
Jim! This man shows up and digs deep every single time he walks in the gym! Jim has been dedicated since joining and now he has his whole family throwing down! Jim is gaining speed, strength and skills on a weekly basis. He is coachable and always works on form and technique. Love having Jim and Rhae in the gym working hard together. I'm also lucking enough to coach their daughter down at CF Kids. Keep showing up and setting that good example!

A. 95
B. 2+15 rx & 3+15 rx (in order)
June 5, 2023 at 2:33 pm
175(4)
1. 2 +16rx
2. 5+3 rx
June 5, 2023 at 3:44 pm
Get it Jim! Looking like a natural!
June 5, 2023 at 5:16 pm
A. 135-145-150-155-160
B. 4+15 (RMU) / 6+1 RX+ in order
June 5, 2023 at 5:42 pm
Big Jim Fan
A. 135-165-185-215-225(4.5)
B. 3+8 / 3+5 scaled life (115; burpee c2b)
C. Complete
June 5, 2023 at 6:23 pm
Thx y'all 👊
June 5, 2023 at 6:40 pm
A) 155. 185, 205, 225, 230x4
B) 2+15 (Rx, Rings), 4+24 Rx
June 5, 2023 at 7:32 pm
A. 135-165-185-205-230(PR)

B. 2nd one first: 4+11/6+2 Rx (RMU)
June 5, 2023 at 9:09 pm
225

4+7 rx bar
4+15 rx
Leave a Reply